Domain Pointers
(Register a domain and point it to any IP address)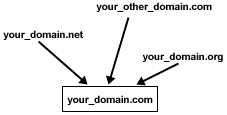 Point multiple domains to your account!
You can have additional domain names point to your existing web site account. For example, if you have an on-line clothing store you may wish to have the domain names clothes.com, shirts.com, and jeans.com all point to your account. This is an excellent way to increase your visibility and bring more visitors to your site!
SUNNY OASIS can either register a new domain or transfer an existing domain for use as a "domain only" pointer. See our current Domain Pointer Prices
Includes:
The ability to point the domain to any IP address you specify.
1MB of disk space for POP3 e-mail.
1 POP3 e-mail account
1 autoresponder
Unlimited e-mail forwarding to a default address
A web-based Control Panel to administer your Domain Pointer online, anytime.
You can also purchase additional e-mail forwards, POP3 e-mail accounts and disk space if needed.
To request a "Domain Only" pointer, merely complete the form below. Please refer any questions to sales@sunnyoasis.com.
(Please refer to important notes below.)
---
sales@sunnyoasis.com
© 1996 SUNNY OASIS
LinkExchange Member